Meryam Ghabri "I am not a teacher, but an awakener"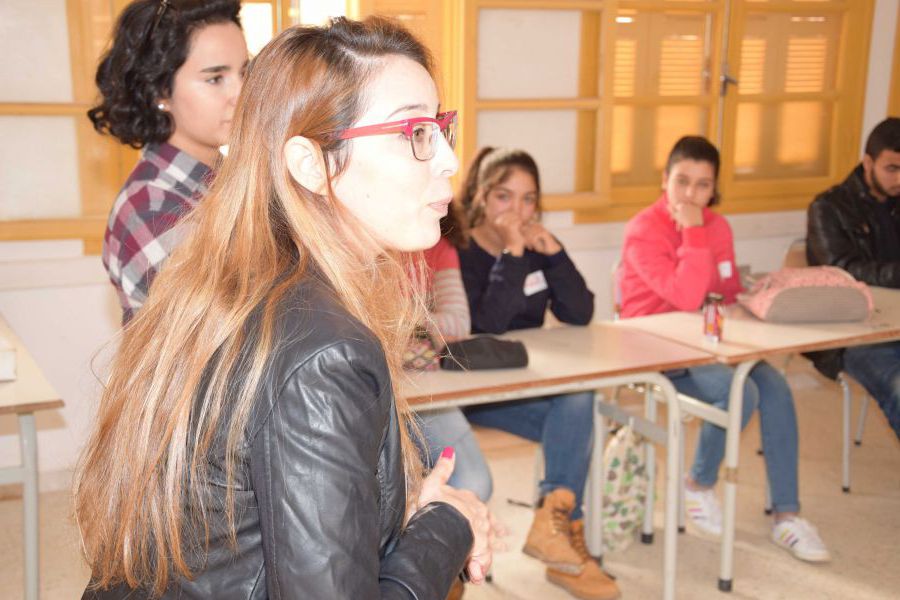 Who are you? Tell us about the journey that brought you to where you are, specifically your current position.
I am an English teacher. I graduated from l'Ecole Normale Superieure , right after which I started my teaching career in my hometown Sidi Bouzid. During my first year, I taught in a rural area, where I became more acquainted with the difficulties students might face in such areas . Throughout the years, I  gained more experience and became more exposed to the challenges facing education in the region. Academically, I am pursuing my graduate studies in psychology and literature and am interested in child psychology and behavioral teaching strategies. 
I am currently the head of the extra-curricular film club at my school, and the project manager of TAYP's NextGen@SidiBouzid project. I often like to say that "I am not a teacher, but  an awakener" – Robert Frost 
Why did you decide to join TAYP and what is your favorite aspect of being a member?
Joining the TAYP team excites me because I love the idea of closing the gap between Tunisia and the US on many levels, and I believe that I could start delivering results from where I stand now. As an English teacher, I noticed how much my students are fond of the English language and their eagerness to learn more about it. Eventually, I was thinking of a way to enable them to further practice the language and channel their energy into something positive and relevant to their learning journey. Indeed, after I was introduced to TAYP's work by a friend, I could see how it is significant to what I aspire to achieve. This is how the idea of TAYP's NextGen@sidibouzid saw the light of day.
I consider myself an innovator and a doer that is why I think that being a project manager and a contributor is part of experimenting with the process of bringing new ideas to every-day life at my academic institution.
You have never lived or worked in the US, how does the US fit into the work that you do and that which you aspire to do?
The US can mean something different to everyone. There isn't one aspect that can wholly and truly define such a vast, heterogenous nation. To me, it stands for freedom, civil rights, and opportunity. Indeed, diversity is the backbone of the US, so it seems to me that everyone is given the opportunity to thrive and succeed in it.
Being a teacher is not only about teaching certain academic things. I believe that a teacher is a mind-opener and an influencer. I like to learn and observe how, in a country like the US, a teacher is given the opportunity to instill the values and pillars of American society as well as life (or practical) skills in the students and hope to do the same with my own.
Do you have any projects that you are currently working on that are important to you? What are they and why are they important?  Has your membership in TAYP catalyzed your work in other areas or given you motivation to start doing/learning new things?
Currently, I am working on the Education component of TAYP's activities on the NextGen@Sidibouzid program as project manager. Actually the program is made up of two projects : "Community Reads" and" High School Blog".  The program is so important because it aims to empower students and explore new approaches to education; the two projects, for example, were chosen by the students and they remain the main drivers of their creation. Throughout the project building process, the students are invited to discover by themselves design thinking concepts which will help them empower themselves and their community. One path this might take them down is Social Entrepreneurship.  
Working on the NextGen@Sidibouzid has given me a certain momentum that squared my motivation.  I am now also  the head of an extra-curricular film club at my school. Through films and documentaries students are experiencing new cultures and discovering new concepts.  
What role do you think the Tunisian Diaspora plays for Tunisia? In which ways do you believe TAYP has and will continue to impact Tunisia's political, cultural and economic development?
TAYP is working on supporting Tunisian youth through promoting exchange and cross-cultural education. Creating new opportunities and building partnerships in and outside Tunisia will have a huge impact on Tunisia's development.
What would you like to personally accomplish as a member and what do you want to bring to  TAYP? What do you hope TAYP to accomplish this year?
As a member, I would like to implement the ideas we planned for and bring new concepts to life.  I would also like to continue meeting more people from different business fields.