Mohamed Malouche receives FIPA-Tunisia Diaspora Award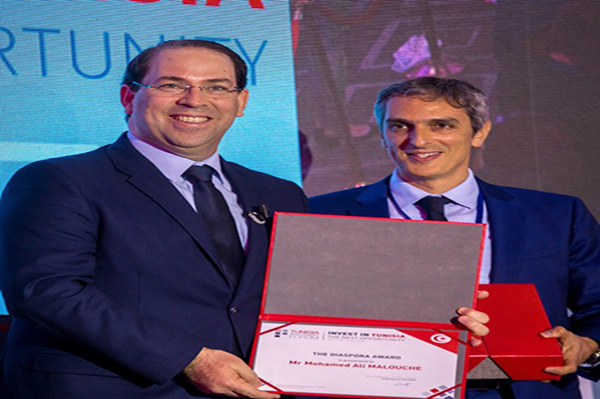 Tunisian American Young Professionals (TAYP) was honored today by the head of the government of Tunisia, Mr. Youssef Chahed, for its dedication to promoting investments, entrepreneurship, and economic development between Tunisia and the United States. Mr. Mohamed Malouche, the TAYP Chairman, received the FIPA-Tunisia Diaspora Award during the Tunisia Investment Forum, an annual investment conference organized by the Tunisian government with more than 1200 investors and participants. "We are honored to receive this award and the recognition of the role diasporas play in supporting the country's democratic transition and economic growth", declared Mr. Malouche.
TAYP is a network of Tunisian American professionals committed to fostering a strong economic, social and cultural relationship between Tunisia and the United States to promote economic growth and development following Tunisia's democratic transition. Through focused projects, networking opportunities, and dynamic forums and events, TAYP empowers businesses and individuals to forge new partnerships and create meaningful change. TAYP's creation was inspired by the January 2011 events, led by the youth of Tunisia, to help transition the country into a real true democratic state. TAYP was born with the belief that economic prosperity is a key ingredient to ensure the successful transition to a new Tunisia.