Tunisia at the Global Entrepreneurship Summit 2016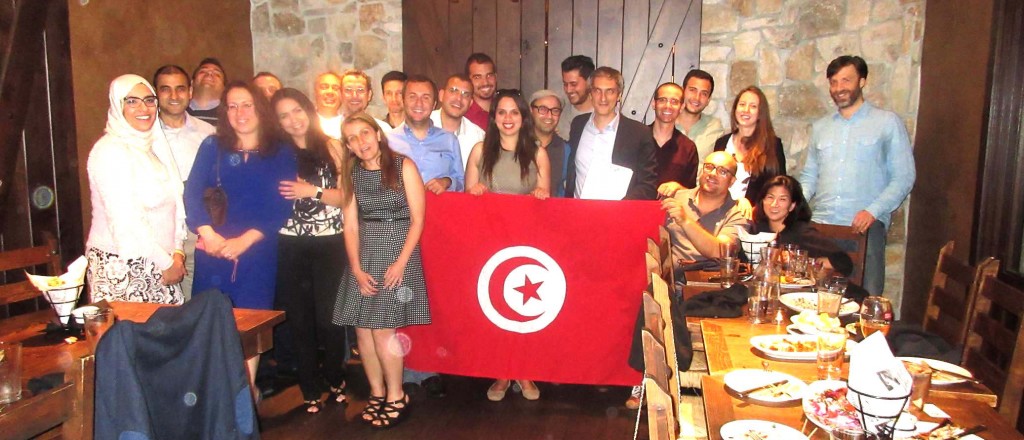 Tunisian entrepreneurs, diaspora mentors and Silicon Valley Experts gather at a dinner organized by TAYP
More than 900 entrepreneurs, 300 investors, U.S governments officials, and journalists, attended the 7th annual Global Entrepreneurship Summit (GES), an event that was held at Stanford University in the home of modern innovation, Silicon Valley, California, on June 22-24, 2016.
The summit,, an initiative started by President Obama in 2010, aims at promoting entrepreneurship and education as drivers for global economic growth and global prosperity and sustainability. It included workshops, panels, mentoring and networking sessions, and culminated in inspiring speeches by Facebook founder Mark Zuckerberg, U.S. Secretary of Commerce Penny Pritzker, U.S. Secretary of State John Kerry, ​and President Barack Obama.  Several other CEOs also participated to GES 2016, including Google CEO Sundar Pichai, Airbnb CEO Brian Chesky and Uber CEO Travis Kalanick.
Tunisia was represented by 9 entrepreneurs, chosen following a multi-review application process, as well as by Houssem Aoudi CEO of Cogite​, Elyes Jeribi​ representing the Tunisian Government's public-private Smart Tunisia project, and Mohamed Malouche, board chairman of the Tunisian American Young Professionals –TAYP.
Meetings were held with several high profile investors, incubators, many entrepreneurs from various parts of the world, and US government officials including the US government Chief Technology Officer Megan Smith, the Deputy assistant secretary for science, space and health Jonathan Margolis, the acting special representative for global partnerships Thomas Debass and the special representative for Muslim communities Shaarik Zaafar.
Two of the Tunisian entrepreneurs present at GES2016, Beyram Belhaj Amor of Simple Expert and Ryadh Bouslama of Pinhole, are part of TAYP's Regional Initiative to Support Entrepreneurship (RISE- a diaspora mentoring program aimed at assisting a select group of Tunisian entrepreneurs to access United States markets), a program funded by the Middle East Partnership Initiative (MEPI).
Moreover, the RISE program was featured by both the Tunisian and US governments in a closed 30-person session attended by Commerce Secretary Penny Pritzker and former AOL Chairman Steve Case, as a successful pilot mentorship program that was enabled by the Tunisian diaspora in the US (in particular TAYP​'s 11​ mentors) in a win-win logic​ (i.e. one that benefited the U.S business ecosystem while at the same time stimulating employment and innovation in Tunisia​).
In a dinner organized by RISE mentor, TAYPer and Senior Director at Vmware Lamia Megdiche to connect the delegation of entrepreneurs with the Tunisian professional diaspora in the Silicon Valley area, Mohamed Malouche mentioned in his brief comments that "GES [is] a unique opportunity to get young Tunisian talented entrepreneurs with Tunisian diaspora experts in Silicon Valley, with the goal of appreciating each other's path, compentencies, networks, learn from each other and help each other professionally. That is what TAYP is all about. TAYP's mission is also to design and deliver impactful projects that benefit Tunisia in Education, Entrepreneurship, Exports and Exchanges".