Tunisian new rendez vous with history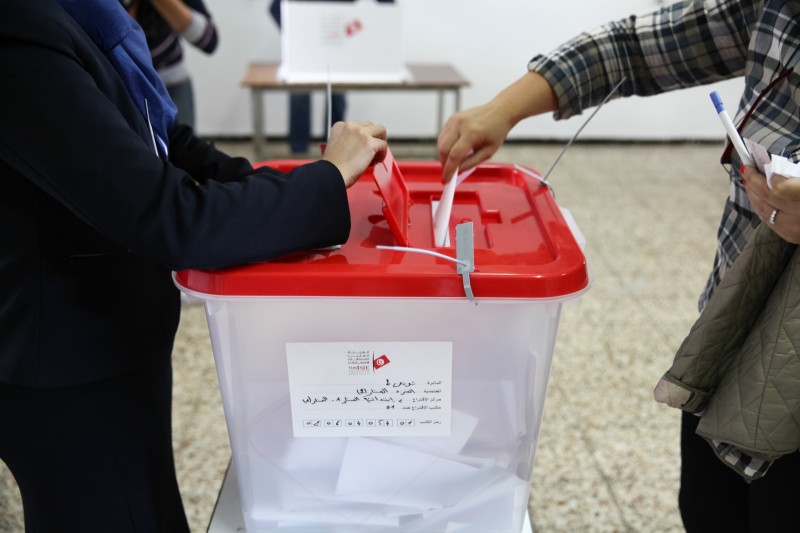 Photo Credit: WAFA BEN HASSINE
On Sunday October 26, Tunisians voters headed to the polls for the second time to elect their first post revolution parliament.  The first election being for electing a constitutional assembly tasked with drafting the country constitution.
The elections procedures and results were seen as fair and transparent by both local and international observers, despite the irregularities that plagued the vote of Tunisian living overseas. I had the honor not only to vote but also to be one of the independent observers with the Tunisia Association for Integrity and Democratic Election (ATIDE).  ATIDE is a nongovernmental association created after the revolution with the purpose to promote and protect democratic values and particularly the right to vote. It has since then observed both the election of 2011 and 2014.
I was assigned to observe the Washington DC polling station.  The turnout was moderate when compared to the levels of 2011 election cycle.  During the three day voting period. I witnessed on several occasions that eligible voters, who registered to vote in 2011, were not able to exercise their rights of selecting their representatives in this election.   The error was that most were not able to find their names on the printed voter register. Others found their name registered in a completely different polling station.  Such irregularity was observed in almost every polling station outside of Tunisia. However, these irregularities   were not observed inside Tunisia and didn't have an impact on the result of the election as a whole.
The election resulted in the victory of the progressive party "Nidaa Tounis" over the Islamists Party "Ennahdha" which was seen as the favorite to win the majority of seats for the past few months. The recently created Nidaa Tounis represents a patch work of former officials, business leaders, secularists and leftists whose main purpose was to unite and to balance the Tunisian political landscape largely dominated by the well organized Ennahdha party.
Despite the hurdles of the transition period, Tunisians showed again their political maturity and their ability to come together and solve their differences in a peaceful and civil manner.  Tunisians accomplished this feat by engaging in a national dialogue that helped finalize the constitution, put in a place a technocratic government and allowed for a successful election.  Tunisians spoke and expressed their desires via the ballot box.
The democratic transition in Tunisia remains young and vulnerable. The new leadership will have to tackle some daunting economic and security issues. According to polls, security and the economy remain Tunisians main concerns. The past three years were spent arguing about politics with no measureable achievements on the ground. We all hope that the next five years are dedicated to building the future of Tunisians as to create opportunities to citizens and youth who are beginning to show signs of disenchantment with the revolution.