Launch of Carnegie Endowment's Report on the Tunisian Transition and a Private Sector Discussion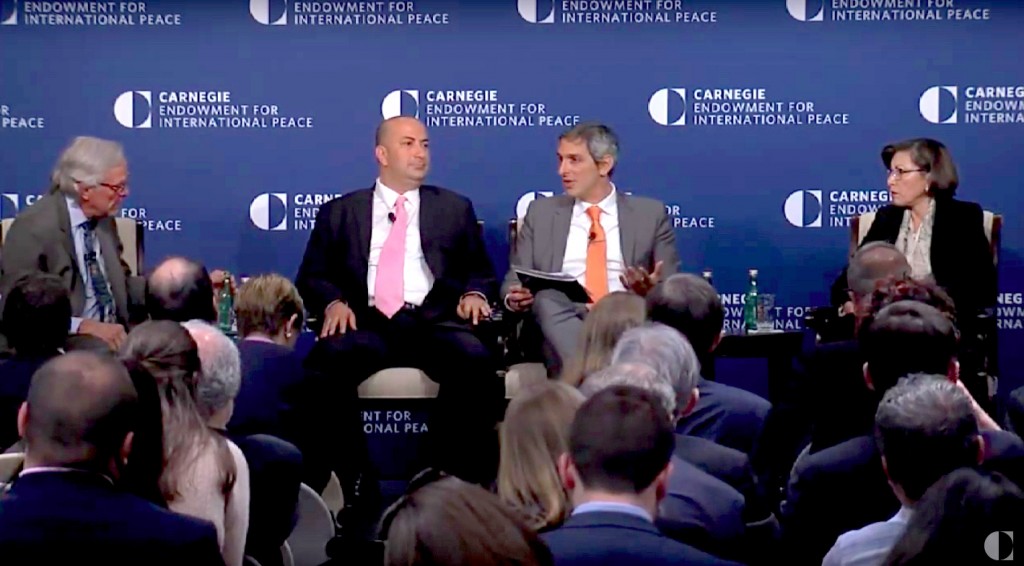 On April 14 2016, the Carnegie Endowment for International Peace has recently launched its report on Tunisia, Between Peril and Promise: A New Partnership for Tunisia, in its Washington D.C. headquarters, featuring a discussion with Minister of Development Yassine Brahim, as well as in Tunis in the presence of Prime Minister Habib Essid.
The report, authored by Marwan Muasher, Marc Pierini and Alexander Djerassi, is the result of an extensive and dedicated research and interviewing process. Their hard work is reflected in the nuanced understanding of Tunisia's social, political and economic reality and the suggested pragmatic solutions to the insufficient international support Tunisia is receiving and the country's slow reform process that is jeopardizing its transition and stability as dissatisfaction among youth and the unemployed rises amidst terrorist threats and attacks.
The report is unique in two ways: (a) most of the focus on Tunisia and the region is currently on terrorism and security issues while this report looks more particularly at the economic challenges that the country faces and (b) while steeped in a deep understanding of Tunisia's political, social, bureaucratic and regional reality, it supplements the academic and analytical approach of a think tank publication with clear-cut policy recommendations for both Tunisia and its international partners.
The report proposes, following discussions with government officials, politicians, international actors, members of civil society and the private sector, five main solutions:
(1) International players should intensify assistance to Tunisia on urgent economic priorities- which demands an increased focus on Tunisia at a time when it seems more urgent to look uniquely at regional security issues.
(2) The Tunisian government should lead the establishment of a coordination mechanism among donors from the G7, and beyond, for accountability and follow-through since a lot of economic assistance is not being spent effectively.
(3) The government should play on its national strength in pluralism, dialogue and consensus-building by launching a dialogue with all stakeholders on public policy and new laws in order to rebuild citizen trust.
(4) Reforms should be advanced to remove the significant remaining obstacles in order to revitalize the economy- particularly in the marginalized regions of Tunisia.
(5) As part of a Tunisian-led partnership framework the government should carry through on establishing a fast-track mechanism to build policies aimed at development and job creation.
The framework for a new partnership is one where Tunisia and the international community work together with an understanding that all parties can reap the benefits of an economically-vibrant and socially-just Tunisia, this can be achieved if all parties commit to taking responsibility for actions (as well as inaction), promoting and accepting accountability, and tackling issues in a prioritized that focuses on responding to the very real needs of a weary and frustrated, yet surprisingly resilient and relatively peaceful population.
Several important gatherings are coming up: the G7 summit in late May, the US-Tunisia Joint Economic Commission on May 6 in DC, and the planned economic dialogue conference to be held in autumn in Tunisia are all examples of events where such a powerful partnership framework can be advocated for and constructed.
The report saw in its DC launch event (Supporting Tunisia's Imperiled Transition) an opening discussion between Carnegie Lead of Studies Marwan Muasher and Tunisian Minister of Development Yassine Brahim who highlighted the difficulties of reaching consensus on the role of the state in a fledgling democracy such as Tunisia. He outlined the resistance that certain economic policies receive from the unions and emphasized the need to raise Tunisia's profile as an ideal potential regional hub for industry given its highly educated work force and unique geographic position. The minister drew on his experience with the drafting of the Strategic Guidance Note to comment on the importance of healthy political debate and consultation with civil society.
Regarding the criticism of Tunisia's slow reform process, the minister explained that Tunisia faces a complex political and economic reality and a slow but sure process of building a new "political life", in a democratic environment, this means immediate reforms executed in quick succession are not a possibility. Noting that even in the world's greatest democracies such quick-paced reforms are impossible, the Minister asked the international community for understanding, patience and support.
This was followed by a discussion offering the private sector's perspective on the economic transition and reform process moderated by TAYP founder Mohamed Malouche. The participants in the discussion were Bowman Cutter from the Roosevelt Institute and the Tunisian American Enterprise Fund, Hexabyte founder Naceur Hidoussi and Samia Msadek of the World Bank Group. The discussion revolved around questions of what constitute obstacles to reform in Tunisia and how to defeat them.
Bowman Cutter explained that internal investment is more important than FDIs hence the need for a more encouraging business environment, he also focused on the importance of establishing government transparency for more constructive conversations, and mentioned an upcoming project in cooperation with the Mediterranean School of Business to produce a publically shared Ease of Doing Business Index in Tunisia. Naceur Hidoussi stressed the issue of accountability for corrupt practices and businesses, particularly when involved in politics, and the need to have well-negotiated GSPs and FTAs for Tunisia. Samia Msadek underlined the need for effective and transparent evidence-based communication of the government's policies and actions as a trust-building mechanism. All the speakers agreed on the key role that public-private partnerships will play in Tunisia's transition.
Finally U.S. Deputy Secretary of State Antony J. Blinken presented the keynote address in which he traced US-Tunisia relations back to the 1799 negotiations between America's "first-ever Consul [sent] across the Atlantic to negotiate peace and secure trade with the Bey of Tunis."
The U.S. Deputy Secretary of State listed out Tunisia's significant accomplishments- free and fair elections, a new constitution, flourishing civil society, heightened accountability of the security sector, human rights' conforming legislation and a Nobel Prize for Peace. He outlined the importance of meeting the nascent democracy's challenges –eradicating corruption, combatting terrorism, integrating and engaging marginalized populations, restructuring to a lighter, more efficient bureaucracy, creating jobs and implementing reforms and new legislation with tangible results for Tunisians.
U.S. Deputy Secretary of State Blinken stressed the need for Tunisia and its international partners to work together. As examples of the United States' commitment to Tunisia's transition, he mentioned the US's investment in the country's efforts to reform the security and justice systems, and mechanisms to improve communication between Representatives in the Parliament and their constituencies.
As far as economic reforms are concerned, he explained that Tunisia's leaders benefit from US technical assistance as they work on policies that empower entrepreneurs and improve the business environment in Tunisia. He pointed to recently introduced laws such as the Competition and Prices Law that should reduce "barriers to investment while closing some of the loopholes that allowed companies to use political influence to secure a monopoly or fix prices" and the Public Private Partnership law which allows "for quicker and greater mobilization of capital into public projects, especially for badly needed infrastructure." He also mentioned other forms of support: financial assistance, educational exchange programs, and security cooperation programs that offer equipment and training to help security sector officers learn how to work with and gain the trust of communities "so the practice of torture is fully excised."
After the report-launching event in Washington DC, Tunis was the next destination to convene and discuss present and future milestones of international and local partnerships. The event took place on Wednesday, April 27. It brought together high-ranking officials, politicians, diplomats, civil society representatives as well as foreign and local investors.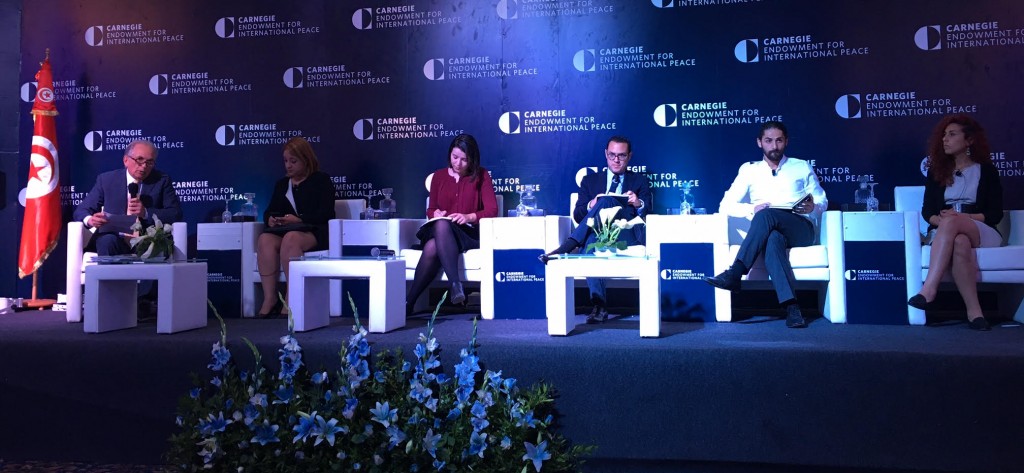 Both Prime Minister Habib Essid and the Minister of Development, Investment and International Cooperation Yassine Brahim addressed the audience. Tunisian Prime Minister Essid opened the ceremony by congratulating the CEIP and stressed the importance of the report, from the questions addressed to the realistic recommendations suggested to tackle current Tunisian economic and social issues. Minister Yassine Brahim clearly stated "if Tunisia has a clear program, its implementation remains a challenge, due to different factors including political power struggles, unemployment and security challenges requiring the government to set-up priorities." Minister Brahim emphasized that security is an important concern and it has to be considered alongside youth employment strategies and administrative reform.
The floor was then given to five young members of Tunisian civil society for a discussion moderated by former EU Ambassador Marc Perini, a visiting scholar at Carnegie Europe. When asked if the freedom of expression gained following the uprising can no longer be revoked, Henda Chennaoui, a representative of Nawat.org, stated that freedom of expression is an everyday struggle. Ons Ben Abdelkarim, president of Al-Bawsala, emphasized that transparency is not optional and that a lack of it leads to dictatorship. Rabia Gharsalli, representative of Youth Decides, illustrated the importance of youth in Tunisian history as far back the very young Ministers of the independence era. Amine Chouaib, who runs an IT startup, highlighted the importance of innovation and empowerment. He said that these values must be the currency of all Tunisians. Sofiane Ouissi from l'Art Rue, remarked that both the media and politicians should be more attentive to youth.
There is clearly a long path ahead of Tunisia in terms of economic, administrative, judicial and securitarian reform and youth empowerment as well fair, sustainable, people-centric policies, equitable policies will be key to rebuilding trust and securing a brighter future for all Tunisians. While the Carnegie Tunisia report is neither the first nor will it be the last effort to clarify the need for international coordination between the multiple actors surrounding Tunisia on its transitional journey, as well as internal communication, transparency and cooperation between Tunisian officials and institutions, it will hopefully have a lasting impact on policymakers in Tunisia and its partners.