TAYP Roundtable: Tunisia's focus on African Markets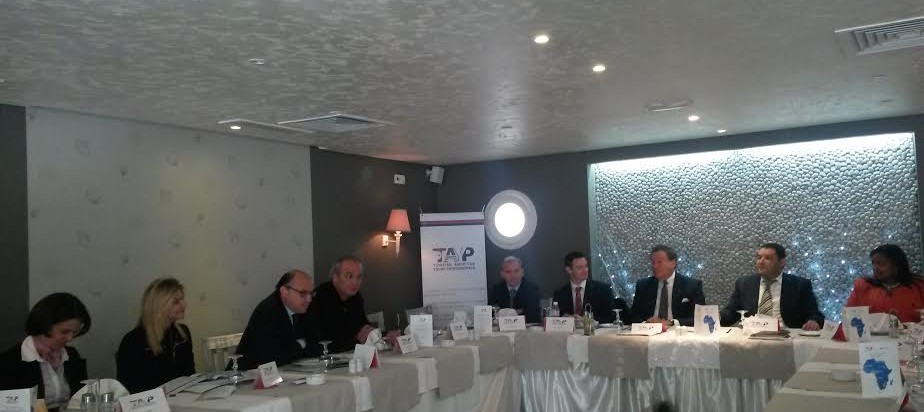 By Christian Hettick
The Tunisian American Young Professionals' Tunisia chapter held a discussion on February 4th, 2014  focused on ways Tunisian companies can win African markets.
The conversation brought together TAYPers, business leaders, and several guests of  honor. The meeting was sponsored by Oxford Economics and was addressed by keynote speaker Mr. Jaloul Ayed, former Minister of Finance. Other distinguished  guests were Mr. Antoine Courcelle-Labrousse of the International Finance  Corporation, Mr. Ahmed Bouzguenda, President of IACE (Institut Arabe des Chefs  d'Entreprises) and her Excellency Nonceba Nancy Lotsi-Tutu, the Ambassador  of South Africa to Tunisia.
Oxford Economics, a global macro-economic consultancy, was especially keen to sponsor this particular discussion because of recent research they've undertaken on the economic growth potential of African Cities, especially as consumer markets.  Their research shows Africa to be the world's last mass consumer market.  Oxford's forecast of continent-wide GDP growth of nearly 5%, the fastest in the world, over the next 15 years, should be enough to position it as the target market for Tunisian firms looking to grow.  The need to win African markets is highlighted even further when these growth rates are compared with Europe's forecast of less than 2% growth, along with the troubles in Libya, another key trade partner.  Digging deeper into the research, Oxford forecasts that the purchasing power of 100 key African cities will more than double, from $420 Billion in 2012 to over $1 Trillion by 2030.
Key takeaway's from Mr. Ayed's keynote, Oxford Economics' research, and the ensuing discussion included the clear need to diversify away from Europe, the striking opportunity present in Sub-Saharan Africa, and some clear, yet clearly lacking keys for Tunisian companies to win these markets.  These keys included a vision for Africa among Tunisian government and business leaders, leading to economic diplomacy (Tunisia only has 7 embassies across the continent – compared to 30 each for Turkey and Morocco).  In this, South Africa is a good model for Tunisia to follow – they prioritized African diplomacy and have an embassy in every African state, and their relative diversification of trade partners cushioned the impact of the 2008-09 financial crisis.
But this economic diplomacy, and the investment needed to realize it, will only come as awareness is raised of the potential for Tunisian firms to succeed in markets where they currently have no presence.  The attendees agreed that while government plays a crucial role, it is not the only actor, and the private sector can lead, for one, by Tunisian banks partnering up and then opening up in the continent.  Here Mr. Courcelle-Labrousse's comments were particularly relevant, that as Tunisian finance gets its house in order, it will be positioned in southern regions to serve Tunisian firms from other strong sectors, such as construction, IT, health, education, and agrifood industry.
There is some precedent that shows the great potential of doing business in Africa.  Mondher Khanfir gave the example of the STEG International Services who won a contract in 2010 to build a power station in Rwanda, and brought 10 other Tunisian firms along with her.  Big projects, backed by the government, could be important market entry strategies for a lasting presence.
Winning these kinds of project needs at least 2 things.  Tunisian firms must be strong locally if they want to win regionally, and health is one sector, strong in Tunisia, where Tunisian businesses can lead regionally.  There is a Memorandum of Understanding covering health and science cooperation between Tunisia and South Africa, and Tunisian biotech and pharmaceutical firms have the potential to do well.  However, as Mr. Ben Rhouma of Evertek said, Tunisians have to learn entrepreneurship – the entrepreneurial spirit is necessary to take the risk and aim for a new market, even one as full of potential as Africa.
Contact info Christian Hettick: chettick@oxfordeconomics.com ; Related Article: