Towards The Learning Generation @UN NY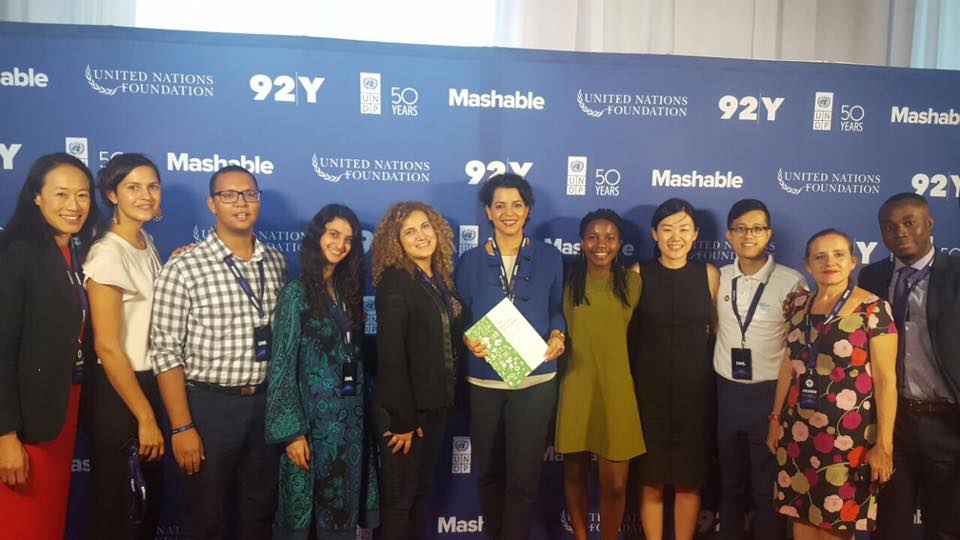 The Youth Panel of UN Education Commission #LearningGeneration among them the Tunisian Khalil Liouane, a TAYP member (left side). Here at the Social Good Summit after the UN Education Commissioner and former Tunisia Minister of Tourism, Amel Karboul (at the center) presented on behalf of UN Education commission the Learning Generation report.
"We can be the first generation in history where every child goes to school, and every boy and girl enjoys a quality education," said former UK Prime Minister Gordon Brown who heads the International Commission on Financing Global Education Opportunity. The commission presented its Learning Generation report and agenda for action to the Education Commission Co-conveners at the United Nations Headquarters in New York City on September 18th, 2016. Among its blue-ribbon commissioners are thirty world leaders including five former presidents and prime ministers, three Nobel Prize laureates, the artist Shakira, Alibaba founder Jack Ma and Tunisia's former Tourism Minister, Amel Karboul.
The International Commission on Financing Global Education Opportunity was created to revitalize the case for investing in education and to chart a course for developing the potential of the world's youth. The UN general-secretary Ban Ki-moon agreed to receive the commission's report and act on its recommendations. The work of the commission is funded by the Norwegian government through the efforts of Norwegian Prime Minister Erna Solberg.
The commission's mandate is to identify the most effective ways of mobilizing resources to help ensure that all children and youth have the opportunity to participate and gain the skills they need for the 21st century workplace. In order to achieve the Learning Generation, the report emphasizes four principles:
(1) Performance: strengthening performance through reforming the education systems
(2) Innovation: encouraging innovation by investing in more futuristic approaches that incorporate new technology
(3) Inclusion: fostering inclusion by pursuing Progressive Universalism to tackle the factors preventing learning across sectors
(4) Finance: improving financing for education based on an investment plan that mobilizes more domestic and international resources.
Today's younger generations face a radically changing world. Up to half of the world's jobs – around 2 billion – are at high risk of disappearing due to automation in the coming decades. Due to shifts in industries and the changing nature of work within industries, demand for high-level skills will grow, and many low- and medium-skilled jobs will become obsolete. High quality education is the only way to generate the needed skills, prevent worsening inequality and provide a prosperous future for all.
Amel Karboul explained in her speech that nations differ in the efficiency of their educational systems, and more spending does not necessarily lead to more learning. For example, Vietnam and Tunisia spend similar shares of their gross domestic product on education, but "in Tunisia, only 64 percent of students passed the secondary international learning assessment, while in Vietnam it was 96 percent".
Still, Tunisia is regarded as a pioneer in education in the MENA region with an impressive record in promoting access to education, particularly for women and girls. The country devotes 7 % of its GDP to the development of its educational system, representing more than the average allocated in OECD countries. The ongoing educational reforms, with the expected constructive effects of competition from a growing private sector and civil society will boost the learning and innovation ecosystem (for which Tunisia has been ranked by Forbes and Techcrunch among the top 10 startup hubs in the world.)
Ultimately, whether for Tunisia or Vietnam, education is the key to sustainably combatting poverty and unlocking gains in health, employment, environment protection and quality of life. In order to build the future that we want tomorrow, we must invest today. As was wisely highlighted by former Australian Prime Minister Julia Gillard, however, "education is a patient investment in an impatient world!"